Fabric Covered Oval Hat Boxes, "Grapes" Tapestry
This is a beautiful set of four XLarge, Oval Hat Boxes, covered in a gorgeous tapestry fabric featuring Grapes, Vines and Leaves. This fabric retails for more than $40.
The colors are really beautiful: Sage Greens, Taupe, Black and Coral Pinks.
The lid of each box is lightly padded and edged with narrow Black Satin Cord. The interior of each box is finished with 3 coats of Black, Gloss paint. The exterior bottom of each box is also fabric covered
DIMENSIONS: Small: 10.25" across x 6.5" deep x 5.5" ht.; Medium: 12.25" across x 8.5" deep x 6.25" ht.; Large: 14.25" across x 10.5" deep x 7.25" ht.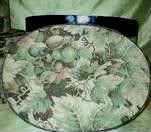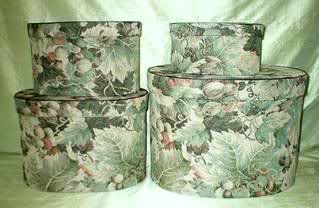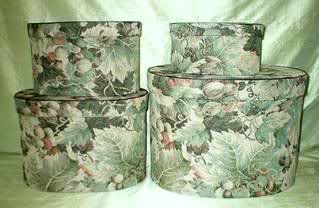 Click To Enlarge