Fabric Covered Hat Boxes, Sage Green/White Gingham
This is a pretty set of 4 Rectangular Hat Boxes, covered in Lt. Sage Green and White Gingham.
The tops are lightly padded and edged with dainty White Venice Lace and Lt. Sage Green Grograin Ribbon.
The interior of each box is finished with three coats of crisp, White, satin finished paint. The exterior bottom of each box is also fabric covered.
A similiar set sells at Butterbean & Co. for $89.95!
DIMENSIONS: Small: 9.75" across x 8" deep (front 3.25" front to back) x 6" ht.; Medium: 10.75" x 9" x 4.25".; Large: 12" x 10" x 5" ht.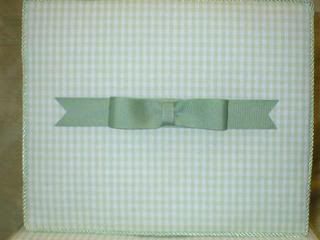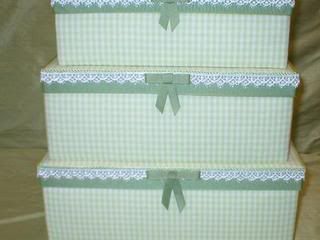 Click To Enlarge