Fabric Covered Hat Boxes, Oval,Yellow Silk Taffeta /Lace
This set of pretty boxes is from our Champagne Collection. Each box is covered in fresh as Springtime, Pale, Yellow Silk Moire Taffeta and White Venice Lace.
The top of each box is decorated with a Beautiful Centerpiece of White Venice Lace, Yellow Satin Ribbon, White Grograin Ribbon and Hand Made Yellow Silk Taffeta Rose and buds with Sage Green Silk Leaves. The face Edge of the hat bot top is trimmed with Beautiful White Venice Lace.The centerpieces on the medium and large boxes are easily removed to allow for stacking, if you wish.
The interior of the box is fully lined with beautiful White Satin Brocade in a Rose Pattern. The interior top and bottom of the box are padded and finished with a White Satin Cord. These boxes are so special and make a perfect finishing decor touch to any woman's "special Places"!
DIMENSIONS: Small: 9" x 7" x 4.5", Med: 10" x 8" x 5", Large: 10" Length, 8" width, 5" ht.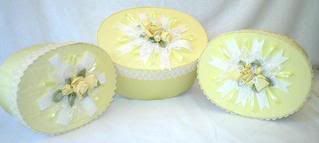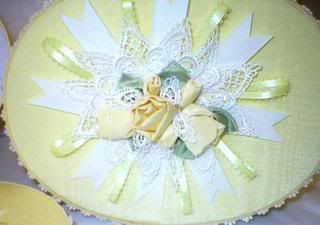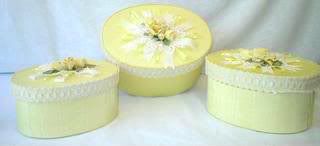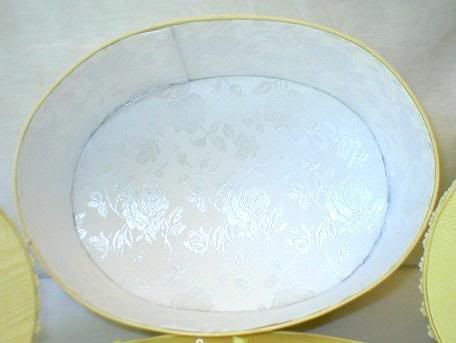 Click To Enlarge