Fabric Covered Hat Boxes, Lavender Roses, misty Sage Green
This hat box set is covered in some of the prettiest fabric I have found. The colors are amazing, soft shades of lilac and white roses on misty, pale Sage Green background. The entire box is lightly padded.
The rim of each box is covered in coordinating Lilac and White pinstripe fabric.
The interior of each box is finished with three coats of crips, White, satin finish paint. The bottom exterior of each box is also fabric covered.
BE SURE TO SEE ALL THE COORDINATING BOXES IN OUR ROSES, ROSES AND LADIES BOUTIQUE COLLECTIONS!
DIMENSIONS: Small: 7.25" x 3.5" ht.; Medium: 8.5" x 4.25" ht.; Large: 10" x 5.5" ht.
Coordinating sets: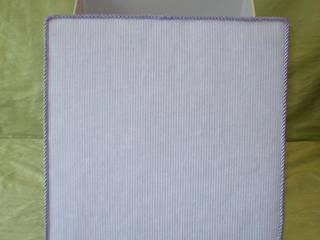 Click To Enlarge