Fabric Covered Hat Boxes, Brittany Bay Tapestry
This is a gorgeous set of three, Rectangle, Hat Boxes covered in "Brittany Bay" Tapestry Fabric.
Each lid is lightly padded and finished with narrow, Metallic Gold Cord. This fabric retails for more than $40 per yard.
The interior of each box is finished with 3 coats of custom matched paint. The exterior bottom of each box is also fabric covered.
(SEE MATCHING DOME TOP TRUNK SET IN OUR "CHOICE OF FABRICS" COLLECTION)
DIMENSIONS: Small Box : 9 3/4" wide x 8" deep x 3 1/4" ht . Medium Box : 10 3/4" wide and 9"deep x 4 1/4" ht. , Large Box: 12"wide x 10" deep x 5" ht.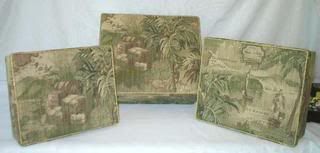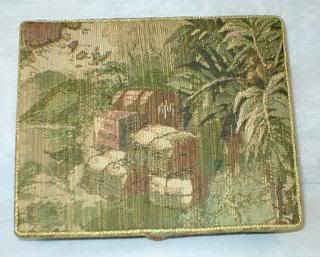 Click To Enlarge